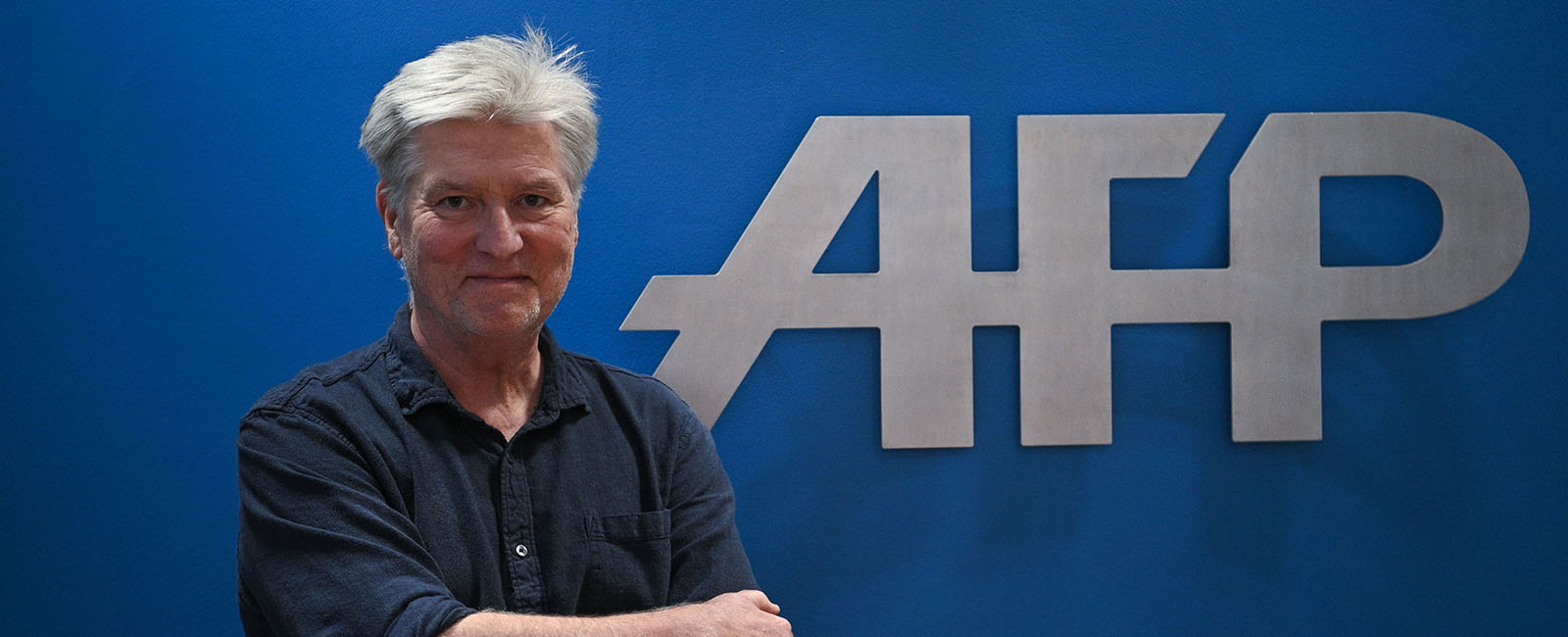 3rd Biophilia Award for Environmental Communication
The BBVA Foundation recognizes Marlowe Hood, environment correspondent of Agence France-Presse, for bringing his broad and incisive vision to global climate change reporting
Journalist Marlowe Hood, environment correspondent and global coordinator for climate change at Agence France-Presse (AFP), receives the 3rd BBVA Foundation Biophilia Award for Environmental Communication. The committee deciding the award singled out "his ability to synthesize complex scientific models and studies and explain them in simple terms," along with "his broad vision in communicating climate change, delving deep into the multiple interactions of this immense environmental challenge, both economic and as directly affecting biodiversity."
Hood (United States, 1956) "is one of the foremost environmental journalists and communicators of his generation," reads the opening line of the citation. "To his long career in journalism, he adds his experience in international reporting to address issues that have ramifications and impacts across the globe, as shown by his ability to speak and write Mandarin Chinese."
Hood is also a teacher at several French journalism schools. For the committee, "his teaching work at the Institut Français de Presse School of Journalism and his video training series for journalists on climate change are fine examples of his innovative approach to climate reporting and his engagement with the new generations of journalists and communicators."
The Biophilia Award, with annual prize money of 100,000 euros, was launched by the BBVA Foundation in 2019 to recognize the work of professionals and organizations in any country that have contributed exceptionally to improving public understanding and awareness of ecological issues. Earlier editions were won by BBC environmental reporter Matt McGrath and the British daily The Guardian.
From political science to scientific and environmental reporting
Marlowe Hood has been science, environment and health correspondent with French global news agency AFP (Agence France-Presse) since 2007, and since 2015 is also its global coordinator for coverage of climate change. He has contributed hundreds of news items on climate change and biodiversity, which have been distributed in multiple languages to thousands of AFP's clients, and found their way into countless articles and features in media across the globe. He also writes a blog, in which he uses a more personal, explanatory style to spread his message of environmental urgency.
In an interview after hearing of the committee's decision, Hood pointed out that what most impressed him about the Biophilia Award was "the importance it lays on the communication of one of humanity's greatest challenges," along with its recognition of "largely unheralded" but quietly influential agency reporting.
Hood got into journalism quite by chance. In the mid-1980s, after studying political science at Princeton University (United States), he moved to Beijing to complete his training as a China specialist. He took a translator's job in the offices of The Wall Street Journal "just to pay the rent." It was seeing his first article in print that encouraged him to make a career as a reporter. He spent 10 years reporting on China and Asia, first as a stringer for the Wall Street Journal and Beijing Bureau Chief for the South China Morning Post, and then as a freelancer, before moving to Paris and beginning to work as a reporter for AFP.
The "metastasis" of the environmental crisis
Installed at the agency, it was only through the insistence of one of his editors that he agreed, reluctantly, to try his hand at science writing. "He twisted my arm and I'm so glad he did, because I discovered something I was passionate about." Today Hood is convinced that understanding the basics of climate change science is among the fundamental prerequisites of good environmental journalism.
The France-Presse environmental correspondent has witnessed in the last ten years how the climate crisis has come to pervade every sphere of life: "Fifteen years ago, covering climate change was basically talking about the United Nations summits, but of course today there is no domain that is not affected by the problem; it has metastasized and influences everything."
"Now the story has been sliced up into many different ones. I have had the luxury of being able to move across these boundaries. And I think it is important as a journalist to have a macro view of things that allows you to connect the dots. In both journalism and science we need to deepen our specialized knowledge, but we still need to have that broader view of how the pieces fit together. It's climate change, it's biodiversity, it's the impact on health… And if we don't tackle them all at once, we're not going to get anywhere, because they are deeply interconnected."
A "sucker-punch" moment
In his award submission, Hood pinpoints the moment when he woke up to the full implications of climate change for today's global society. It was 2009, and he was in Oxford attending a conference on what the world would like with 4ºC higher temperatures. And suddenly "the reality of global warming and the human misery it will trail in its wake hit me in the gut and left me gasping for air."
Since then, his professional life has centered on the question: "How can I help people understand that fundamentally altering Earth's miraculous biochemical balancing act will have dire and possibly irreversible consequences? And as a journalist, how can I highlight solutions without endorsing false optimism and spurious claims? How can I have maximum impact?"
He admits to being driven by "a sense of urgency" about the threats and challenges we face: "The Anthropocene could be an era in which life on Earth flourishes. Or it could usher in Earth's 6th mass extinction. Humanity is standing at the crossroads and doesn't have long to decide which path we will be taking."
A journalism of facts, not opinions
Hood has asked himself at times if his journalism was the best way to wield influence, since an agency's job is to deliver news, not opinion. At times the France-Presse correspondent yearns, he says, "to explicitly denounce what I know to be harmful or wrong, and to champion what I think is the right course of action."
But this, he acknowledges, would be a mistake. "I deeply believe in the utility and importance of fact-based environmental reporting. The perception of neutrality is the foundation of our credibility as a news organization. More than ever, the world needs fact-based reporting that cannot be disputed. And though I don't editorialize, I do exercise editorial judgment in selecting the topics I write about and the people I choose to interview."
News exclusives that resonate worldwide
In practice, his pursuit of influence has led him to such career achievements as gaining an exclusive on various UN environmental reports. "I also feel like an activist in some ways. I have a very deep concern about where we're heading, and what is the best pathway to cope with this problem. It is a concern that affects scientists too, and that's the reason I have gotten so many exclusives over the years."
He tells the story of how he got his hands on a draft copy of a UN report on the worldwide impact of the biodiversity crisis. This was 2019, and knowing that the report would be published in a few weeks, Hood was looking at different outlets "trying to gauge the level of media interest, and what people were saying about the biodiversity report. I looked on Google News and there was virtually nothing. I was shocked by that, because I knew how important the report was going to be, with the potential to be paradigm shifting. So I reached out to a few sources and said that this silence was not good. I made the argument that a strong science-based article from AFP in six languages would significantly raise the issue's profile at a critical moment, just before the report came out. And that's exactly how it worked."
Hood's headline for the story warned of a million species at risk of extinction due to human activity, and the message was picked up by some of the world's most influential media, from USA Today to The Guardian, among the print press, and television broadcasters like NBC and PBS. The same thing happened later that year with another report on the impact of climate change on the world's oceans. The headline this time was "Oceans turning from friend to foe, warns landmark UN climate report." And again, Hood's message and his news exclusive distributed by France-Press ended up occupying space in many leading media outlets.
Agency reporting sets the agenda
"So you see that the influence of my work –Hood says– extends beyond online clicks. These stories are not only directly accessible to tens of millions of people through AFP's media clients, they are also read by other journalists who take their cue from top level agency reporting."
The Biophilia laureate is indeed vehement about the importance of agency journalism. Frequently overlooked and almost always anonymous, it is nonetheless essential not only for its numerical reach, but also because it defines the angle taken by numerous other media, and helps frame the bigger international debate: "The primordial role of agencies such as Reuters, Bloomberg and AFP in the global news ecosystem is poorly understood. It's not just about getting there first on a breaking story. We are also impartial arbiters that set the tone and steer the global narrative."
The world's "eco-awakening"
For Hood, the world is in the grip of an "eco-awakening." The process began some years ago and has continued through the pandemic: "2019 was the year the world –including the media– woke up to the reality of global warming, species loss and ecosystem destruction. The coronavirus pandemic at first obscured this eco-awakening. But as the health crisis subsides and people realize that humanity's poor stewardship of nature is an incubator for zoonotic diseases [that spread from animals to people], concern for these issues has resurged stronger than ever."
"This summer of weather disasters sweeping across the Northern hemisphere, from floods to heatwaves, etc., has woken people up to the idea that climate change is here and now. At the beginning, adaptation was spoken of as something for future impacts, well, no, events have caught up with us and we need to be prepared."
Against this backdrop, his work as global coordinator for climate change coverage at AFP has become far more prominent of late, the laureate reflects. Among his functions are to provide guidance to a network of 1,500 journalists across the globe, each with their own specialization – from world politics to transport, energy and consumption– issuing guidelines and recommendations on how to approach and write on environmental subjects; drawing up briefing notes on climate change science; or suggesting lines of approach and questioning for different types of source.
Training the next generation of journalists
His role as an educator is important to Hood. Of his work teaching around a hundred students a year on some of France's most prestigious journalism programs, he says: "I can think of no more effective way to influence public understanding of our environmental crisis than shaping the outlook of a nation's top-tier of journalists, one graduating class at a time."
Hood was surprised to find these young people so marked by the environmental crisis: "Climate change has already had a huge impact on their lives. They have grown up under this cloud. I'm not out to indoctrinate them, but to give them the tools that will allow them to form their own opinions."
In the first class each year, he asks what he describes as the question for anyone interested in environmental communication: "How do you scare people enough to take it seriously, and at the same time show them that there are solutions and hope, so they don't just throw their hands up in despair? It's all about striking that balance."
About the BBVA Foundation and the Biophilia Award
For more than twenty years, the protection of our planet has numbered among the BBVA Foundation's key focus areas, translating as support for scientific research, the funding of projects to conserve species, habitats and ecosystems, the promotion of social awareness around environmental issues, and the recognition of communication professionals who have contributed decisively to inform individual and collective engagement with the ecological challenges of our time.
In 2004, it created the BBVA Foundation Awards for Biodiversity Conservation, encompassing research endeavors, projects in Spain and Latin America, and environmental communication and awareness. The research modality was integrated in 2008 into the BBVA Foundation Frontiers of Knowledge Awards, with the creation of the two categories of Climate Change and Ecology and Conservation Biology, which have since taken their place alongside the other six categories of basic sciences, biomedicine, information technologies, economics, humanities and social sciences. In their first thirteen editions, around 40 of the world's most prestigious ecologists, conservation biologists, economists and climate scientists have received the Frontiers of Knowledge Award, along with world-class researchers in other areas. In fact, 19 Frontiers of Knowledge laureates to date have gone on to win the Nobel Prize. Last Tuesday, Klaus Hasselmann and Syukuro Manabe, winners of the Frontiers Award in Climate Change in 2009 and 2016 respectively, received the Nobel Prize in Physics.
The ecological challenges of our time are of such scale and magnitude that a global approach is imperative. In light of this fact, the BBVA Foundation Awards for Biodiversity Conservation added a worldwide category in 2017, distinguishing projects to preserve species, habitats, and ecosystems.
From this same global perspective, the Biophilia Award for Environmental Communication, with annual prize money of 100,000 euros, recognizes the work of professionals and/or organizations in any country that have contributed exceptionally to improving public understanding and awareness of ecological issues, particularly the biodiversity crisis and the multidimensional phenomenon of climate change, bringing to bear the best available evidence and knowledge. As well as the breadth and quality of the impact achieved, the Biophilia Award recognizes conceptual innovation in environmental communication formats, channels and narratives.
The name of the award, which alludes to the "Biophilia hypothesis" proposed by naturalist Edward O. Wilson (2010 Frontiers of Knowledge Laureate in Ecology and Conservation Biology), denotes the deep connection that we as humans instinctively feel with nature and all forms of life.
In its first two editions, the Biophilia Award went to the BBC's environment correspondent, journalist Matt McGrath, for his "extraordinary capacity to communicate complex environmental issues and science to global audiences," and the newspaper The Guardian, for its "powerful and effective communication of environmental issues, debates and news," and "transformative impact" in the global community, in the words of the committees' citations.
Evaluation committee
The committee in this edition was chaired by Rafael Zardoya, Director of the Spanish Museum of Natural Sciences-CSIC, with members Araceli Acosta, Chief Press Officer at the Ministry for the Ecological Transition and the Demographic Challenge; Alberto Aguirre de Cárcer, editor of daily newspaper La Verdad de Murcia;  Laia Alegret, Senior Lecturer in Earth Sciences in the Paleontology Area of the University of Zaragoza; Clemente Álvarez, coordinator of the online Climate and Environment section of El País; Caty Arévalo, Senate advisor and expert in environmental communication; Antonio Cerrillo, Environment editor of La Vanguardia; Carlos Fresneda, London correspondent of El Mundo; Teresa Guerrero, Science and Environment editor of El Mundo; Cristina Ribas, Lecturer in Journalism at Pompeu Fabra University; and Vladimir de Semir, President of the Advisory Council and Social Council, Centre of Studies on Science, Communication and Society, Pompeu Fabra University (UPF), Spain.